Search Engine Optimization (SEO)
Search Engine Optimization, commonly referred as SEO is the set of activities performed to make sure your website is search engine friendly in all ways possible. SEO helps in bringing your website as one of the top results and drive organic traffic to your website.
SEO is the most fundamental task to be done for any website, even if you are not aggressive on online marketing. Just as your office campus needs housekeeping, your website needs SEO to be done regularly.
SEO Cycle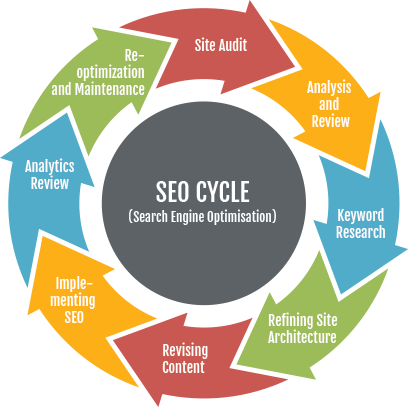 Basic Search Engine Optimization tasks include
SEO text like title tags, description and keywords added to all web pages
XML sitemap submission to Google, Yahoo, Bing, etc.
HTML Sitemap uploading
Robots.txt submission
Site verification with major Search Engines (Google, Yahoo! and Bing)
Canonical Linking
Testing Crawlability of the site content
Broken Links and Error URLs checking and fixing
Custom 404 Error Page
302 Redirects / Meta Refreshes
URL Length, Keywords in the URL & Search friendly URLs optimisation
Removal of Duplicate Content and Duplicate / Short / Non-informative Meta Data
Page Load Time optimizing
Browser compatibility testing and optimizing
W3C Compliance testing and fixing 
Sounds complicated?
Unless you have a dedicated team who are tracking the differences between Google Penguin (2012) and Hummingbird (2013), we suggest you outsource your SEO to an experienced agency like Element-D® (that's us!).